Editor and Writer David Schonauer on the Risky History of the War Photographer
April 23, 2011 | Source: Monroe Gallery of Photography

David Schonauer
Former editor-in-chief, American Photo magazine


Via The Huffington Post
Hetherington, Hondros, and the Risky History of the War Photographer



To the list of photographers who have died while covering war and conflict, we must now add the names of Tim Hetherington and Chris Hondros, killed in Misurata, Libya on Wednesday. They join the likes of Ken Oosterbroek, a member of the so-called Bang Bang Club of photojournalists immortalized now in a new movie. Oosterbroek was killed in 1994 while covering the violence in South Africa during the final days of apartheid. They join Olivier Rebbot, killed in El Salvador in 1981 while on assignment for Newsweek. Rebbot was a model for the photographer played by Nick Nolte in the 1983 film Under Fire. They join Robert Capa, killed near Thai Binh, Vietnam in 1954, who was the model for all who would follow in his profession. If the war photographer has come to be seen as a romantic figure, we have the Hemingwayesque Capa to thank.


It was Capa, famed for covering the D-Day landing on Omaha Beach, who said, "If your pictures aren't good enough, you're not close enough," and the photographers who followed him into Vietnam took his advice. Vietnam was a particular deadly place for photographers, who jumped aboard helicopters alongside soldiers to fly into firefights. The names of the dead -- Larry Burrows, Gilles Caron, Henri Huet, Robert Ellison, Dickie Chapelle, Charles Eggleston, and Oliver Noonan among them -- have become legend. The haunting 1997 book Requiem memorialized these journalists -- 135 photographers from different nations known to have died in Vietnam. In the book's introduction, David Halberstam described why their job was so dangerous:

"War correspondents always know who is real and who is not. A war zone is not a good setting for the inauthentic of spirit and heart. We who were print people and who dealt only in words and not in images always knew that the photographers were the brave ones, and in that war... they held a special place in our esteem. We deferred to them, reporter to photographer, in that venue as we did in few others."

They were real because they had to be real; they could not, as we print people could, arrive a little late for the action, be briefed, and then, through the skilled use of interviews and journalism, re-create a scene with stunning accuracy, writing a marvelous you-are-there story that reeked of intimacy even though, in truth, we had missed it all. We could miss the fighting and still do our jobs. They could not. There was only one way for them to achieve intimacy: by being eyewitnesses.

I knew Tim Hetherington and Chris Hondros, but not especially well -- in the case of Chris, we went out for beers on a couple of occasions and spoke on the telephone a few times when he wrote a story for the photography magazine I edited. (He was a fine writer, too; urgent, clear, and caring.) My acquaintance with Tim was very brief -- I interviewed him last November, over coffee at a hotel lobby in New York, about his book Infidel, which had just come out. In similar ways, Chris and Tim impressed me, immediately and lastingly, as superior people -- humble, humorous, dedicated, and very intelligent. Real, as Halberstam put it.

Halberstam noted that the Vietnam War began "in an era of black-and-white photography and ended in one of color videotape beamed by satellite to television stations all over the world." The world of photography has changed just as radically in the past ten years. On 9/11, when photographers raced to downtown Manhattan to document the devastating scenes there, most carried film cameras. At the time, the first professional-quality 35mm SLRs were just coming onto the market. News organizations and photo agencies anticipated America's reaction to the terrorist attacks and retooled, almost overnight. When American troops went to war in Afghanistan a few weeks later, photojournalists covered the story with digital cameras and satellite uplinks, ramping up the speed with which they could deliver pictures. Later in the decade, as the Internet took hold and the old-media world imploded, photographers began doubling as videographers and writers. (Underscoring the evolution, last year the Associated Press dropped its time-honored byline, "Associated Press Writer," with the more ambiguous "Associated Press.")

Tim Hetherington thrived in this new journalistic landscape. A skilled filmmaker as well as a photographer, he could tell a story through a number of media platforms. In his Oscar-nominated film Restrepo, and in his small but powerful photo book Infidel, he told the story of a U.S. combat unit in Afghanistan's Korengal Valley, never veering far from the everyday reality of the soldiers' lives. "Symbols or representations of soldiers are often claimed by the far left and far right to mean a certain thing," he told me, "and we do these men an injustice by not digesting fully their reality."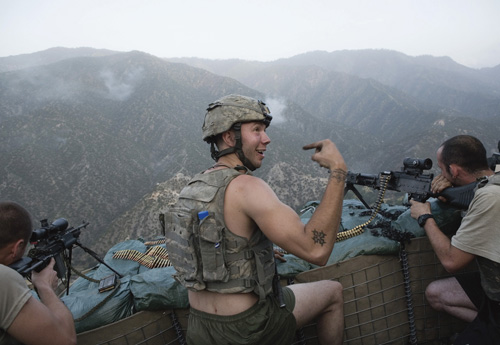 An image from Hetherington's book Infidel

It's a dangerous job they do, and like others who do dangerous jobs they learn how to cope as best they can. A correspondent friend of mine who traveled with Chris Hondros on several stories in Iraq later told me that the photographer had taught him a valuable lesson about working in a combat area: to sleep when sleep was possible, in the lulls between action and danger. Chris, a recipient of the Robert Capa Gold Medal, a prestigious award for the highest level of war photography, knew what he was doing and why. And he no doubt understood the implications of another of Capa's famous comments: speaking of his work on D-Day, Capa said, "The war correspondent has his stake, his life, in his own hands and he can put it on this horse or that horse, or he can put it back in his pocket at the very last minute. I am a gambler. I decided to go in with Company E in the first wave."


Please take a moment to write a message to Tim Hetherington's family and share it with his friends