To Do Monday: Stephen Wilkes Talks "Day To Night"
November 30, 2012 | Source: Monroe Gallery of Photography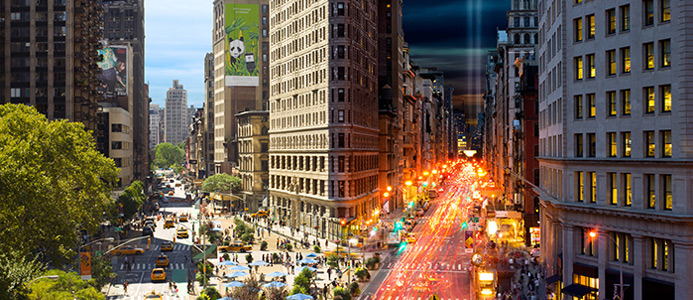 Sponsored by Adorama and Canon


Stephen Wilkes: The Big Picture

Monday, Dec 3, 2012

5:30PM - 7:30PM

Event location:

Event Description:


Stephen Wilkes is well known internationally for his fine art and commercial photography, and during this evening's presentation he'll be showing and discussing the pictures, themes, and genres that are signatures of his work. Many of his images, at once epic in scale all share a unique human narrative, showcasing his fascination with scale, and reflecting his passion for making 'The Big Picture.'

He'll show his latest fine art series, "Day to Night', where Stephen photographs a scene from the same perspective during a minimum of 10 hours, as he says, "capturing a fluid visual narrative of day into night within a single frame."

Stephen's assignments and projects have taken him around the globe, where his continuing interest in architectural imagery and how rapid industrial growth impacts our world and environment. He'll be showing examples that range from his series on China's transformation from it's rural and natural beauty to teeming cities as an industrial behemoth, to a recent commercial assignment in Mumbai that combined his expertise shooting on location in challenging situations and combining his exciting visualization capturing the essence and energy of a place. He'll also be showing images from his Ellis Island series, and from the Hurricane Katrina and the Gulf oil spill series among others.

Throughout the presentation, be prepared to look at things differently; you will see and hear about the symbiotic relationship between his commercial and fine art work, as Stephen shares how he manages to balance an active commercial and fine art career.

Register here (event expired)


(A selection of Stephen Wilkes' Day To Night photographs are currently on view at the gallery. UPDATE: Contact the gallery for news about the newest international addition to the collection: Jerusalem, Day To Night.)

Biography: Stephen Wilkes

For more than two decades Stephen Wilkes has been widely recognized for his fine art and commercial photography. His photographs have been exhibited in both galleries and museums, and featured in the New York Times Magazine, Vanity Fair, Time, Sports Illustrated, London Sunday Times, and Travel + Leisure.

In 2000, Epson America commissioned him to create a millennial portrait of the United States, a 52-day odyssey that resulted in a critically acclaimed exhibition that traveled to New York, Chicago, Los Angeles, and San Francisco.

The monograph,

Ellis Island: Ghosts of Freedom

was published in 2006. Stephen was featured on Weekend Edition with Scott Simon of NPR, CBS Sunday Morning with Martha Teichner and the book received high critical acclaim including Time Magazine's 5 Best Photography Books of The Year, 2006. His newest body of work is titled

Day to Night

. The work embodies epic cityscapes of New York with fleeting moments throughout the day to night. Stephen photographs from one camera angle continuously for approximately 15 hours. A select group of images are then electronically blended into one photograph. The photographs have been exhibited at Clampart Gallery in NYC, and

Monroe Gallery in Santa Fe

. CBS Sunday Morning

featured Stephen in a segment on his process in creating Day to Night images on November 11, 2012.

In 1999 he completed a personal project photographing the south side of Ellis Island: the ruined landscape of the infectious disease and psychiatric hospital wings, where children and adults alike were detained before they could enter America. Through his photographs and video work, Stephen has inspired and helped secure $6 million in funding towards the restoration for the south side of the island.

Educated at Syracuse University's S. I. Newhouse School of Public Communications, his awards and honors include the Alfred Eisenstaedt Award for Magazine Photography, Photographer of the Year from Adweek Magazine, Fine Art Photographer of the Year 2004 Lucie Award, and the Epson Creativity Award.

Stephen's work is in the permanent collection of the International Museum of Photography in the George Eastman House, Houston Museum of Fine Arts, Dow Jones Collection, Griffin Museum of Photography, Jewish Museum of New York, Library of Congress and numerous private collections.

He also shoots advertising campaigns for many of the worlds leading agencies and corporations, including, SAP, IBM, PepsiCo, Wyeth Pharmaceuticals, American Express, Nike, Sony, Verizon, IBM, AT&T, Rolex, Honda, J.W.T., EuroRSCG, McCann Erickson, Ogilvy & Mather, Goodby Silverstein & Partners, and Rubin Postaer among others.