NEIL LEIFER: RELENTLESS
July 15, 2016 | Source: Monroe Gallery of Photography
Monroe Gallery of Photography, 112 Don Gaspar, Santa Fe, NM, in conjunction with the Briscoe Center for American History, is pleased to host a special exhibition and book signing celebrating Neil Leifer's most recent book, "Relentless". The exhibition opens with a reception and book signing with the photographer on Friday, July 29, 5 "" 7:30 PM.
Neil Leifer is the best-known sports photographer of the past half century
. Now, in Relentless, a
collaborative publication of the Dolph Briscoe Center and the University of Texas Press
, L
eifer takes us behind the scenes of some fifty of his most iconic pictures. Starting with his shot of Baltimore Colt Alan Ameche scoring the game-winning touchdown against the New York Giants during sudden death overtime in the 1958 NFL Championship game at Yankee Stadiumtaken on Leifer's sixteenth birthdayhe tells enthralling, often hilarious stories of getting to the right place at the right time to capture many of the legendary athletes of the twentieth century, including Mickey Mantle, Arthur Ashe, Willie Mays, Sugar Ray Robinson, Joe Namath, and Arnold Palmer, as well as shooting presidential and celebrity portraits and covering a variety of subjects for Time. Recapping both an incredibly successful career and the transformation of photojournalism since the era of the great photo magazines, Relentless effectively chronicles fifty years of American popular culture
Relentless: 400 pages with 276 black & white and color photos, $45, is available from the Gallery.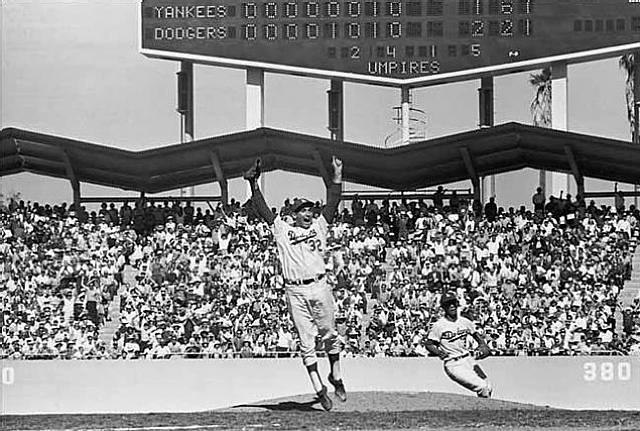 Neil Leifer: 1963 World Series Final Game - Sandy Koufax celebrating with Maury Wills, Dodger Stadium, Los Angeles, CA